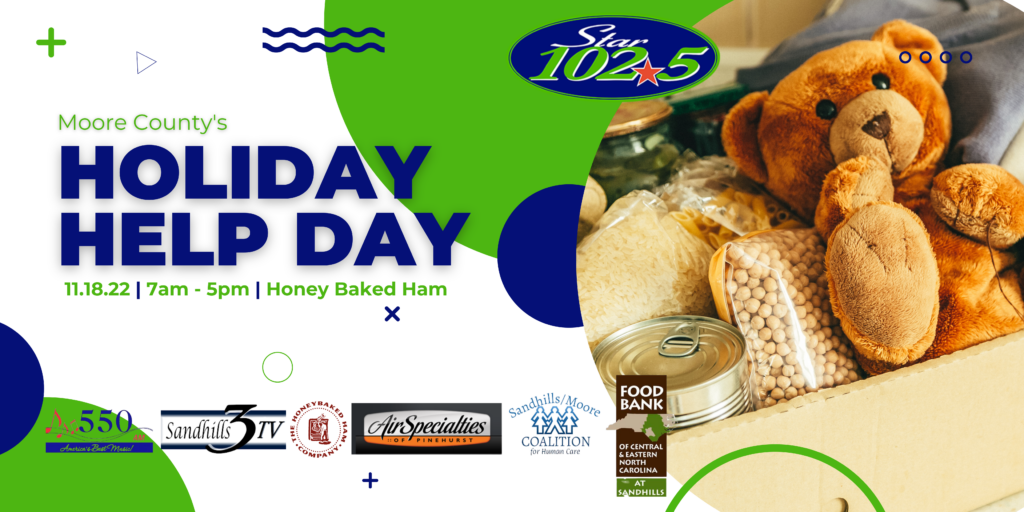 ---
FRIDAY NOVEMBER 18th IN FRONT OF HONEY BAKED HAM and CAFE ON 15-501
WE'LL BE BROADCASTING LIVE FROM 7A-5P
DRIVE BY AND DROP OFF YOUR DONATIONS
Imagine not having enough blankets or coats to keep your family warm? What if your child ran out of paper or crayons for school? Or perhaps you didn't have enough food to keep your family fed. This is the unfortunate reality for many of our brothers, sisters, friends and neighbors living right here in Moore County. We want to help change that reality, so, we've teamed up with Lennox and Air Specialties of Pinehurst to create a day to give to those in need.
Join Star 102.5, 550am WIOZ and Sandhills TV 3 on Friday November 18th for our Moore County Holiday Help-Day. All day long we'll be collecting coats and blankets, food to fill pantries and school supplies to help our teachers. We'll be joined by the Moore County Chamber of Commerce, the Food Bank and the Sandhills/Moore Coalition for Human Care for this one day, all day event! The Moore County Holiday Help-Day, from 7am until 5pm at Honeybaked Ham on 15-501 in Southern Pines. It's a day for all of these organizations and all of Moore County to come together for our community.
Thank you to Air Specialties of Pinehurst and Lennox for helping us make a difference.
WHAT WE'LL BE COLLECTING
Coats and Blankets to help through the cold winter months
Non-Perishable food items for the Food Bank
ONE DAY, ALL DAY EVENT
IF YOU'D LIKE TO DONATE BUT ARE UNABLE TO DROP OFF YOUR ITEMS ON THE 18th, YOU CAN DROP OFF AT AIR SPECIALTIES OF PINEHURST OR AT MUIRFIELD BROADCASTING STAR 102.5 / 550AM / SANDHILLS TV 3
THANK THE SPONSOR'S GENEROSITY FOR MAKING THIS ALL HAPPEN: AIR SPECIALTIES OF PINEHURST – THE AREA'S ONLY PREMEIR LENNOX DEALER. CALL 944-2526 AS THE WEATHER GETS COOLER TO KEEP YOUR HVAC SYSTEM IN TOP SHAPE.